Someone Is Sneaking Around Your House. What Do You Do?
Sunday, May 28, 2023 11:05
% of readers think this story is Fact. Add your two cents.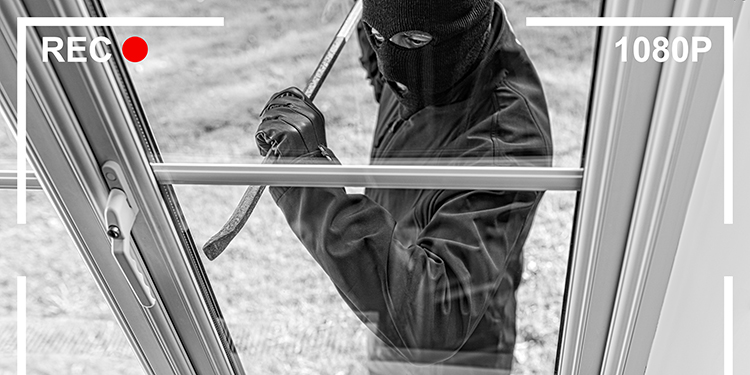 There's no point prepping for a crisis if, as soon as it hits, someone steals all your supplies and equipment. You need to keep your location secure against intruders.
The problem is thieves don't tend to advertise their presence. They're stealthy; they hide their intentions and sneak in, hoping to stay unnoticed.
⇒ How To Build A Cheap Bunker In Your Backyard
What can you do to catch them?
Prepare The Ground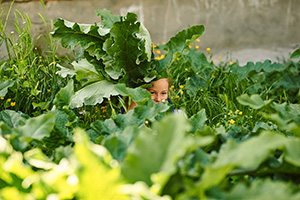 It's a lot easier to catch intruders if you don't leave them anywhere to hide. Look at your yard and identify anything that could be used for cover – and remember that cover doesn't need to be man-sized; an eighteen-inch square is enough to hide behind. If you have kids you can use them to help you here.
Turn it into a game; get them to hide in the yard, then look for them from the house. Anywhere they hide successfully, an intruder could too.
Once you've found the sneaking places eliminate as many as possible. That doesn't have to mean stripping your yard down to bare ground, either – you just have to take away places an intruder could conceal himself.
If you have large bushes it's often possible to cut away the lower branches, so you can see if anyone's sneaking. If you're planting rows of crops, like beans or corn, try to have the rows pointing at the house so you can see along them, instead of at an angle to it so they provide a screen looters can shelter behind.
Chicken wire give less cover than a picket fence or wall. If there are walls you can't remove, use thorny plants to make the dead ground behind them uncomfortable.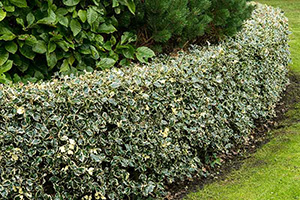 A good dense thicket of brambles will deter many prowlers. Poison ivy or even stinging nettles grow fast, and will make the area unwelcoming while the brambles grow.
Your aim is to get rid of any sneaking places you can, and force intruders out of the ones that remain. If they're in the open they'll be much easier to spot.
Shine A Light
It's much harder to spot bad guys at night.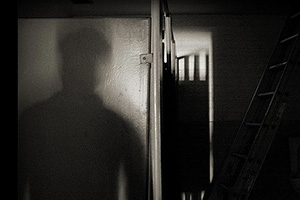 Even with dark-adjusted eyes, shadows make it much easier to hide – and the moon can cast shadows deep enough that even if you've cut back vegetation and lined your crops up just right, someone can lose themselves in the darkest areas. Make it much easier to catch them by setting up some lighting.
If you don't fancy having your home lit up like a mall parking lot, don't worry about it – you don't want always-on lights anyway, for two reasons.
First, they'll use a lot of power. Second, if your lights are always on that gives intruders a chance to study them, identify remaining shadows and work out the least visible way in.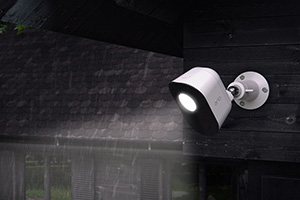 The best solution is to install security lights activated by a Passive Infra-Red detector. It's possible to beat these – but it isn't really realistic.
If you set a few up to cover all approaches to your home it's pretty certain that if anyone tries to approach, the lights will come on.
As you set up your lights make sure they're not creating more shadows than they wipe out.
Early Warning
Of course, it's hard to see and catch someone sneaking around your house if you don't know they're there, and you don't want to spend all your time looking out windows in the hope of seeing something. Your security will be seriously enhanced if you have something to alert you to intruders.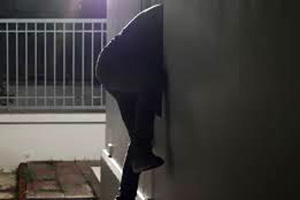 Security lights can give you some warning; if you're sitting inside and the lights suddenly go on outside, that lets you know something's moving out there.
On the other hand it isn't going to help much if you're asleep, so a noisier alarm can be valuable too.
You're asking for trouble with the law if you set lethal booby traps, even on your own land, but there are plenty trap options that can warn you of prowlers without harming them:
Electronic noisemakers. Personal alarms usually go off when you push a button, but there are some battery-operated ones that activate when you pull out a pin. If you mount the alarm somewhere it's protected from rain and snow, then attach a tripwire to the pin, you have a cheap and simple warning system. Just remember to test it regularly to make sure it's holding its charge.
Clattering cans. A simple bunch of old cans can make a fair amount of noise. Punch holes in two or three, thread strings through and hang them from a fence in a loose cluster so they clatter when anyone tries to climb the fence. Attach cans to the ends of a tripwire so when it's pulled they fall into a metal bucket. Hang bunches in dark places – among the trees of an orchard, for example – where anyone sneaking around in the dark will walk into them.
Alarm mines. Operated by a tripwire, these fire a blank cartridge when triggered. Most use cheap .22 blanks; others take a 12-gauge. Either should be loud enough to wake you up and give an intruder a fright.
Any of these noisemakers are great for covering places you can't see into so well. They're good deterrents, too; a lot of the time, just tripping – or even seeing – one will persuade a thief to look for an easier target.
Another option is to set up wildlife cameras at strategic locations. These are discreet – they use infra-red to detect movement, as well as to illuminate the scene for their night vision cameras. They won't deter intruders if they're properly hidden, but if you're suffering from pilfering a well-placed camera can catch the looter in the act and give you valuable evidence.
Crime is a sad fact of life, but you don't need to accept being a victim. There's a lot you can do to secure your property against intruders, deter many of them from sneaking around, and alert you when one doesn't take the hint.
Prepping isn't just about collecting the things you need to survive a crisis; you need to prepare to hold on to them, too.
RELATED ARTICLES :
Before It's News®
is a community of individuals who report on what's going on around them, from all around the world.
Anyone can
join
.
Anyone can contribute.
Anyone can become informed about their world.
"United We Stand" Click Here To Create Your Personal Citizen Journalist Account Today, Be Sure To Invite Your Friends.
<!—- ShareThis BEGIN -—> <!—- ShareThis END -—>