Venezuelan Opposition Recognized Maduro's Government at Last
Wednesday, September 15, 2021 16:10
% of readers think this story is Fact. Add your two cents.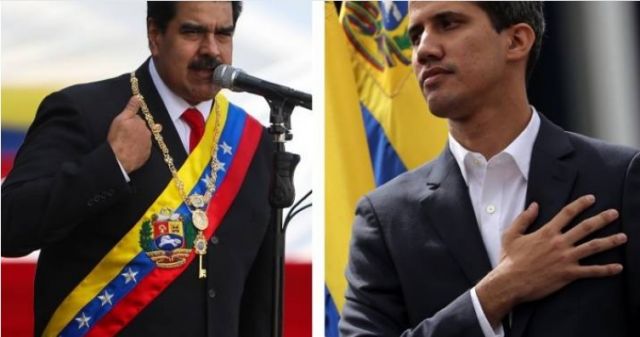 Venezuelan Opposition Recognized Maduro's Government at Last
Thursday, September 9, 2021
Uriel Araujo, researcher with a focus on international and ethnic conflicts.
---
Venezuelan opposition leaders and Maduro's government representatives have stated they agree at least partially on some key points. Negotiation talks were held in Mexico City from September 3 to 6. On Monday, a joint statement was issued highlighting areas of agreement pertaining to COVID-19 related measures and territorial disputes with neighboring Guyana. According to the statement, talks on social and economic measures – including drawing rights with the IMF – shall continue in the next round at the end of the month.
Opposition leaders and government representatives signed a memorandum of understanding August 13 on Mexico, in the presence of a Norwegian mediator and Mexico's foreign minister agreeing to hold the talks, which started last Friday. It was the fifth time the opposition and the government held formal negotiations since Venezuelan President Maduro's inauguration in 2013. For over a year now there has been a campaign to remove Maduro from office; his opponents have been denouncing him as a dictator and claim his 2018 re-election was rigged. This time, however, marks an important development, with the end of a three-year elections boycott.
The Venezuelan government demanded the lifting of European and American sanctions on institutions such as the state oil company PDVSA and on government officials. These sanctions heavily impact the country's economy. The US President Joe Biden's administration has replied that if "meaningful progress" is made in the current talks, the US could rethink the issue but the truth is that little progress has been actually made regarding sanctions relief. According to S&P Global Platts Analytics, Biden's government is likely to grant only a modest relief, such as crude-for-diesel swaps. This alone would allow Venezuela's oil production to increase to 600,000 b/d by December 2022, however.
The opposition, in its turn, has demanded guaranteed (regional) elections in November – this time they will not boycott it – and that some activists they regard as political prisoners be released from custody. The opposition representatives have also urged humanitarian aid, including COVID-19 vaccines, be let into the country.
One remarkable development is that both sides have agreed to ratify Venezuelan rights over Guayana Esequiba, an oil-rich region in western Guyana. Since 2018, Guyana has advanced its oil production in the areas in territorial dispute and since at least last year, Guyana has been in the spotlight due to the discovery of large oil reserves.
The Venezuela-Guyana dispute however can be traced back to the colonial powers – the Netherlands and then the United Kingdom in the case of Guyana, and Spain, in Venezuela's case. After the oil discoveries the tensions have been escalating of course and both the current government and the opposition appear to be in full agreement on this issue. The quarrel will not likely be solved any time soon but the agreement is politically and diplomatically relevant and marks an evolution in the government-opposition dialogue.
Unlike previous endeavors, this conversation in Mexico now includes parties such as Norway, the Netherlands, Turkey, Bolivia, and Russia. The recent freeing of opposition leader Freddy Guevara and, more importantly, the announced participation of the opposition in the November regional elections appear to be the products of this ongoing dialogue. Such an announcement – even before the current talks – has been overlooked, but is in fact quite significant because in 2018 the Venezuelan opposition boycotted the presidential election. Thus, it signals that it now implicitly recognizes Maduro's government in a way. Will international actors do the same? Doing so could be interpreted as a first step paving the way towards sanctions relief. The problem is that such sanctions should be geopolitically seen as part of larger oil wars and sanctions warfare of which Iran and its proxies and even Russia are also targets.
Caracas has in fact been relying on Tehran and sanctioned Iranian airlines for its fuel production. For example, last month an Iranian aircraft alone landed in Caracas international airport carrying 47.9 tons of catalysts for fuel production. In exchange, Venezuela has offered jet fuel to Iran, among other things. Tehran has also sent tankers carrying oil to Venezuela, as well as to Lebanon and Syria, as part of its oil diplomacy.
The diplomatic situation is complicated because the US – as well as the UK – continue to view Venezuelan opposition leader Juan Guaido as the country's de jure interim leader and maintain diplomatic contact with him, while European Union countries pursue an ambiguous approach: since January, European Union states no longer consider Guaido as interim president, but merely as a "privileged interlocutor" – which is a peculiar position. Even among Venezuelan dissidents he has lost much of his popularity and now defends a kind of recall referendum as a more pragmatic solution to the political crisis.
The Venezuelan economy has been suffering with falling oil prices and heavier US sanctions have in fact contributed to an oil production collapse – one should keep in mind that the export revenue was the cornerstone of the economy. Moreover, several European governments plus Washington blocked Maduro's government to over $7 billion of state funds held overseas. To sum it up, Venezuela is amid a national catastrophe and a humanitarian crisis – beyond the political and economical. Finding a more urgent solution to the current state of affairs is the common ground both the government and the opposition now have.
It is about time the West, too, becomes more pragmatic regarding Venezuela. One can merely contrast the current approach towards Caracas with the case of Taliban-controlled Kabul to see the hypocrisy. The EU and the US might not have formally recognized today's Taliban government in Afghanistan yet but in practice they do engage with it pragmatically nonetheless and thus implicitly recognize it somehow – in the case of Washington since at least August 2020. Why not engage with Maduro?
Source: InfoBrics
Before It's News®
is a community of individuals who report on what's going on around them, from all around the world.
Anyone can
join
.
Anyone can contribute.
Anyone can become informed about their world.
"United We Stand" Click Here To Create Your Personal Citizen Journalist Account Today, Be Sure To Invite Your Friends.