How to Detox From Heavy Metals Naturally
Saturday, March 18, 2023 19:32
% of readers think this story is Fact. Add your two cents.

Heavy metals occur naturally on the planet, and some like iron, zinc, and even silver and copper are vital for life in trace amounts. While any metal has the potential for toxicity in excess, the term "heavy metal" usually refers to those that have no known human benefit, like lead, mercury, cadmium, and arsenic.
Over 493 toxins have been found in people ranging in ages from newborns to adults according to research by the Environmental Working Group. These toxins range from pesticides, to petrochemicals to toxins such as DDT that have been banned decades ago but still exist in newborn cord blood. Many of these toxins have been shown to cause cancer, damage to the brain and abnormal development. Because we live in a toxic world we need tools to strengthen our bodies to rid ourselves safely of toxins.
Heavy metals accumulate in the body over time. They hide out deep in our tissues and organs — and can be highly toxic, contributing to many chronic health problems.
But, the good news is, it's possible to remove these contaminants from your body, so they don't negatively impact your health.
Impact of humic/fulvic acid on the removal of heavy metals from aqueous solutions using nanomaterials: a review https://pubmed.ncbi.nlm.nih.gov/24095965/
Here's Why You Should Do a Heavy Metal Detox
What Are Heavy Metals?
You may be exposed to heavy metals and not even know it. They can be contaminants in food, drugs, and supplements, or leached into groundwater. Occupational hazards from raw materials, equipment, processing, and fumes are also very common.
Some typical exposure risks include:
Lead from old pipes, paint, or even leaded gasoline still in topsoil (with children particularly at risk because even brief exposure can affect brain development)
Cadmium from tobacco smoke or food grown in cadmium-rich soil
Arsenic from treated lumber, coal-fired power plants, and runoff into groundwater
Why Are Heavy Metals Dangerous?
Heavy metals bond to and accumulate in organs and tissues, causing all kinds of physical, mental, and neurological damage.
Many "mystery illnesses," like muscle weakness, brain fog, fatigue, nausea, headaches, and even constipation, can be traced to heavy metal exposure and accumulation.
The higher the concentration, the worse the problems. Here are some of the consequences you can get from too much exposure to heavy metals:
Depression
Hair loss
Learning disabilities
Immune disorders
Cancer
Death
How to Detox Heavy Metals from Your Body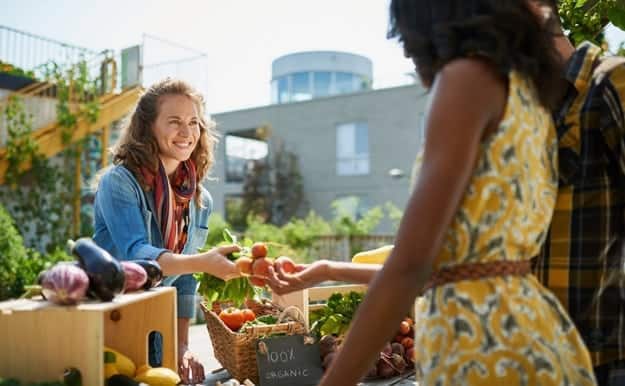 Eating organic produce can help you reduce your exposure to heavy metals.
If you live in the U.S. or in any other industrialized country, you almost certainly have some level of ongoing heavy metal contamination.
Here are 3 steps you can take:
Avoid additional heavy metal exposure when at all possible by doing the following:
Rice is one of the most arsenic-contaminated crops—limit your consumption and check if your organic source is tested for heavy metals.
Limit your consumption of fish, which is often contaminated with mercury.
Switch to a biological dentist who uses non-toxic procedures and can safely remove metal fillings.
If your home was built before 1952, have pipes and paint checked for lead.
Wear protective masks and clothing if you work in industries using heavy metals.
I have an amazing resource of quick-reference guides and wallet cards you can print and carry with you, and one of the wallet cards lists common neurotoxins, like heavy metals, and which products, procedures, and foods to avoid or limit contact with them. Check out the Genius Guides here!
Try a fulvic and humic mineral supplement that may naturally help remove heavy metal toxins.
Fulvic and humic acids contain minerals that come from ancient plant deposits, so they are natural.
Fulvic acid has dozens of beneficial uses for the human body. It:
Transports nutrients
Is a super-antioxidant
Increases alkalinity
Modulates hormones
Regulates neurologic function
Acts as an electrolyte
Boosts immunity
Is the best source of bioavailable organic trace minerals
Fulvic acid is also nature's most powerful natural heavy metal detoxifier.
Fulvic acid truly is an underrated natural compound rivaled by few others for its plethora of health benefits.
Only HerbAnomic Humic & Fulvic Liquid Trace Mineral Complex has the superior ratio of BOTH fulvic and humic acid in high concentrations – to deliver the BEST and MOST POTENT solution in a one-stop-shop for all your health needs.
HerbAnomic Humic & Fulvic Liquid Trace Mineral Complex has More than just Humic and Fulvic Molecules plus Trace Minerals:
Our Complex is Fully Oxygenated!
Order Your Humic Fulvic For Your Family by Clicking on this Link , or the Banner Below.
HerbAnomic's Humic and Fulvic Liquid Trace Mineral Complex is a revolutionary New Humic and Fulvic Acid Complex designed to support your body at the cellular level. Our product has been thoroughly tested by an ISO/IEC Certified Lab for toxins and Heavy metals as well as for trace mineral content. We KNOW we have NO lead, arsenic, mercury, aluminum etc. in our Formula. This Humic & Fulvic Liquid Trace Mineral complex has high trace levels of naturally occurring Humic and Fulvic Acids as well as high trace levels of Zinc, Iron, Magnesium, Molybdenum, Potassium and more. There is a wide range of up to 70 trace minerals which occur naturally in our Complex at varying levels. We Choose to list the 8 substances which occur in higher trace levels on our supplement panel. We don't claim a high number of minerals as other Humic and Fulvic Supplements do and leave you to guess which elements you'll be getting.
Our Formula is an exceptional value compared to other Humic Fulvic Minerals because:
It's OXYGENATED
Our Extraction Process protects fragile and ancient oxygen bonds which can be broken by over bombardment of the Humic and Fulvic Molecule Matrixes. Secondarily, we use Oxygenated water in our Extraction process which adds further O2 bonds to the Humic and Fulvic Molecules. This enhances Oxygen delivery at the cellular level!
It Always Tests at 9.5+ pH
Alkaline substances combat Body Acidity brought on by high sugar and carbohydrate consumption. When your body fluids contain too much acid, it's known as acidosis. Never processed using Heat, Humic and Fulvic acids are delicate and are damaged when subjected to high heat.
Preservative and Chemical Free
HerbAnomic desires to avoid all unnecessary additions of Preservatives and Chemical additives. Our Complex does have beneficial Phytochemicals, but never synthetic chemicals added for shelf stability.
Allergen Free
We don't add Unnecessary bulk and flavoring to our product so we are able to keep our product clear of Allergenic compounds like Gluten, Dairy, Nuts, Shellfish, Legumes, Nightshades, Soy, Corn and all other potential allergenic products.
Comes From a Pure, Unpolluted, Organic Source
Free from GMOs and Man-Made Toxins-All our food supply, water and air is effected by pollution, has traces of rocket fuel, residues from petrochemicals and deposits of harmful Pesticides and Forever-Chemicals. Our source material is protected, harvested from within the earth, never coming into contact with these damaging toxins.
Is an Excellent Source for Trace Minerals
Our food supply is devoid of mineral input and toxic herbicides, pesticides and chemicals prevent proper use of minerals by the plants. Our bodies cannot extract enough Bio-Available plant minerals from our modern era crops. This is why we need a true trace mineral complex which is BIOAVAILABLE to access these trace elements. Beyond just minerals, our product provides a Full Spectrum Humic/Fulvic Blend Complete with Amino Acids, Poly-Electrolytes, Phytochemicals, Polyphenols, Bio-Flavinoids & Trace Vitamins.
Is Fom Whole, Prehisoric Plant Based Origin Material With Ionic Minerals and Constituents
HerbAnomic's complex has been carefully sourced from whole plant based material, its mineral content is ionically suspended in our liquid formulation. Our Humic Fulvic Complex is extracted directly from this natural Origin material: It Contains fully Bio-Available Minerals and other due to the large amount of electrons they possess. This causes them to bond with positively charged substances such as trace elements, oxygen particles and minerals salts. Humic and Fulvic Acids are incredibly small, so small that when they do bond, these micron sized, once elemental particles are so tiny that they are able to pass through the cellular wall and into the nucleus of the cell thus becoming Organic and Bioavailable. Synthetic vitamins and Elemental minerals that you find added to fortified foods, in chelated form in supplements and from your iron frying pan are too large to be used within the cell.
Highly Conductive/Full of Extra Electrons
This is exactly what cells need for optimum functionality. Our Bodies are Bombarded with EMFs, Radiation, Radio Frequencies and many types of currents every day. Often, Cells can be confused in the high frequency exposure and perform poorly. Enter Humic and Fulvic with their high levels of electrons and High charge. Additional Electrons enable Humic acids to bond to Positively charged damaging viruses and fungi, Heavy metals and toxins removing them from the digestive system through the gut. Fulvic acids are able to charge cells with their extra electrons, enabling them to return to normal function.
Is a Full Spectrum Complex
Our Humic and Fulvic Liquid Trace Mineral Complex has Minerals, Amino Acids, Poly Electrolytes, Phytochemicals, Polyphenols, Bioflavonoids and Trace Vitamins included with the Humic and Fulvic Acid. Our Source material is high in these constituents, where other manufacturers use inferior materials.
Order Your Humic Fulvic For Your Family by Clicking on this Link , or the Banner Below.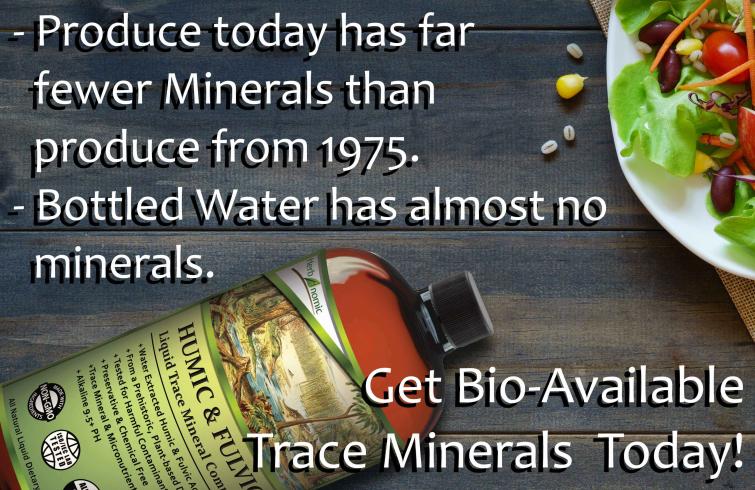 Take advantage of this Bundle offer for a savings of $13.00, Due to shipping costs, this is a limited time offer, take advantage of this Bundle now.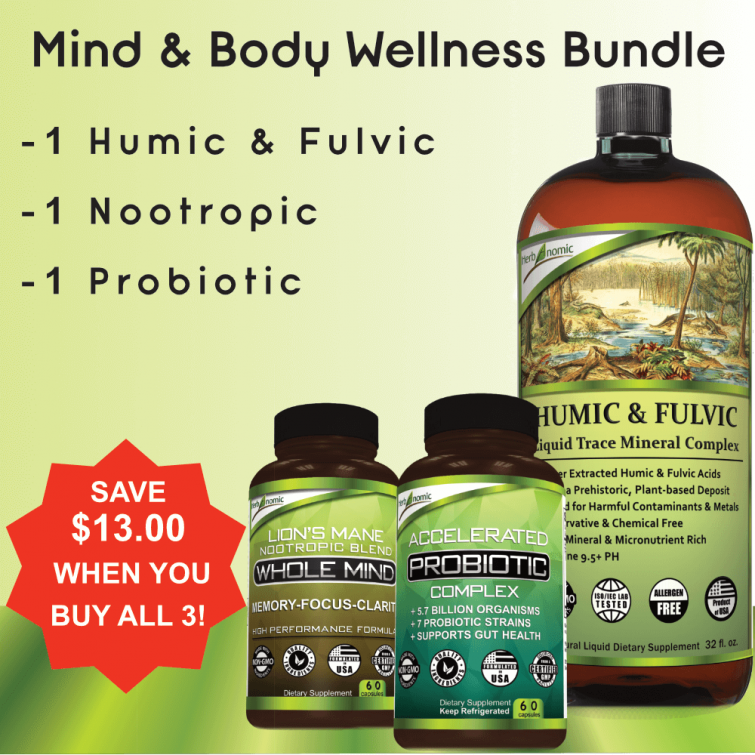 MS

07-15-2021

Have been taking Humic Fulvic for about a month now. I am more energetic, more relaxed, sleep more restful. It has also relieved my constipation issue. I will remain on this mineral complex because it makes me feel so much better.

C

Cesar Saldana•Verified Reviewer

Humic & Fulvic

07-12-2021

I have tried and spent money on other products which were not worth much. I recommend this to all of my family members and you'll see results within days of taking it. Three shots a day to make it a happy healthy day. Am a customer for life. Thank you

M

Mary & Phil Yates

Excellent And Effective

07-11-2020

I ordered the Humic Fulvic Product last month to try it out and experienced actual improvements in just a day! My skin issues got better in a week and I was sleeping really well even though my husband snores! I came back to the site and ordered three so my husband can use it too! I keep it in the …Read More

T

Tom Goodson

Humic Fulvic

06-12-2020

I tried this herbanomic humic fulvic after my other brand ran out and was unavailable. I'm usually brand loyal when something works for me. However, this new humic fulvic was an improvement over my regular brand! I felt bigger results the in the first two days than with the other brand and I really …Read More

C

Candy

Humic Fulvic

06-10-2020

I can't believe the hydration I was missing out on! This year my skin had gotten so bad in winter and my fingers were dry and cracking. Herbanomics Humic Fulvic Supplement changed that after 2 days! There was a noticeable improvement over all my skin. I gave some to my son too and his bumps on his …Read More


SOURCES: https://lanceschuttler.com/
Before It's News®
is a community of individuals who report on what's going on around them, from all around the world.
Anyone can
join
.
Anyone can contribute.
Anyone can become informed about their world.
"United We Stand" Click Here To Create Your Personal Citizen Journalist Account Today, Be Sure To Invite Your Friends.