The US War in Afghanistan Is Over, Says Biden, but the US Remains at War
Tuesday, October 12, 2021 5:19
% of readers think this story is Fact. Add your two cents.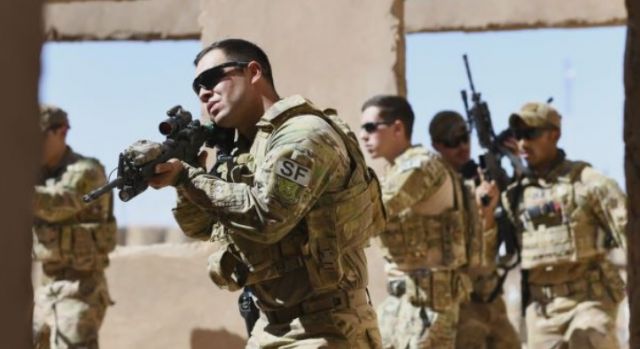 The US War in Afghanistan Is Over, Says Biden, but the US Remains at War
Tuesday, October 12, 2021
Uriel Araujo, researcher with a focus on international and ethnic conflicts.
---
In the aftermath of Afghanistan withdrawal, the US still has around 750 military bases abroad in at least 80 foreign countries, according to an estimate by David Vine, a political science professor at the American University in Washington, DC. US power is indeed in decline in terms of being able to achieve its goals, but American strength cannot be underestimated.
First of all, the very premise that the US are actually "leaving" Afghanistan is rather questionable, to say the least. By all indications, they are not. On his August 31 speech, a day after American troops left the country, US President Joe Biden himself stated: "We have what's called over-the-horizon capabilities, which means we can strike terrorists and targets without American boots on the ground or very few if needed. We've shown that capacity just in the last week. We struck ISIS-K remotely".
By this, Biden meant the network of bases his country maintains around Afghanistan, which enables the US military to keep conducting air raids against targets there. Moreover, even without overt bases and troops on Afghan soil, one can expect covert American operations (by means of special forces) shall take place, as they do in Africa – this Central Asian country is after all an arena for geopolitical competition between global and region powers and thus the US simply cannot really "leave".
So, after twenty years of war the US closed its large overt base in Afghanistan. However, there are yet many other bases about which not so much is written. It is hard to count how many of them the United States actually have abroad because much of their military presence is covert or disguised, as is the case in Africa - not to mention Washington's 60,000 persons "secret army" that operates globally.
Be it as it may, even by the most conservative estimates (the Pentagon does not publish such data), around 700 is too many bases for any country, even a superpower. Just for the sake of comparison, China, the other global superpower, so far maintains only one military base overseas (in Djibouti). Russia has one in Franz Josef Land, a Russian Arctic archipelago (outside mainland Russia) and around 20 military facilities mostly in former Soviet republics, that is, in the so-called "near abroad", plus three facilities in Syria.
As for troops, according to data published in the Conflict Management and Peace Science Journal, Washington deploys about 170,000 of them in over 150 countries - as of 2020. This is in fact the largest military presence any nation or empire ever maintained throughout History.
Even though the US Congress has not formally declared "war" since 1942, Washington has been launching extensive military campaigns in Iraq, Somalia, Yemen, and, until recently, Afghanistan. If one counts combat and special missions pertaining to special operations forces, the number goes above 100.
The 2001 Authorization for Use of Military Force (AUMF), granting the American President the power to make use of the US Armed Forces against those behind the September 11 terrorist attacks, gave the subsequent US administration a kind of carte blanche way beyond fighting Al Qaeda. This law has been abused for about 20 years, giving a legal basis for a myriad of campaigns in Georgia, Yemen, Eritrea, Somalia and so on. The very list of actors Washington currently is fighting under such authorization is classified and thus cannot be made public. This is why the US global war on terror has been described as the Forever War. This domestic legal apparatus complements the military apparatus overseas.
So, even though Biden has recently declared – while addressing the United Nations General Assembly on September 21 – the US is not at war for the first time in 20 years (since the 9/11 terrorist attack in 2001), his statement simply does not take into consideration several ongoing smaller-scale conflicts. For instance, just one day before this speech, a US drone fired a missile in northwestern Syria and destroyed a car. Three weeks earlier, the American military conducted an airstrike in Somalia as part of the ongoing campaign Washington undertakes there with increasing intensity and civilian casualties.
At the same UNGA speech, Biden called for diplomacy, not conflict, but it is hard to take such words seriously. Right now, there are over 40,000 US troops stationed in the Middle East alone (including the 2,500 troops in Iraq). American troops, in the Middle East and elsewhere, operate against several militant groups in the Philippines, in Niger, in Syria, Yemen and so on.
In March, Joe Biden announced his wish to work with Congress to repeal the AUMF. This could come true. However, in June, Pentagon spokesperson John Kirby cited Joe Biden's "Article II authority to protect U.S. personnel in Iraq" as the legal basis for Biden's airstrikes on the Syria-Iraq border. The fact is that the war powers of the US Presidents have been consistently increasing since at least the War Powers Act of 1973 and thereby no one really knows when the President actually needs congressional authorization at all to bomb and invade any country in the world because there are many legal justifications for such – enshrined in a myriad of legislations. This in itself throws doubts on the democratic status of the US today although such is rarely discussed.
Too many wars (declared or not) and too many troops and bases (overt or covert) for a declining superpower. All of this accompanies a tremendous espionage apparatus that is often employed against the US own allies - and US intelligence and consulates are supporting or behind coup d'etats (or attempts of it), as has seen in Venezuela last year, for example.
But an increasingly polycentric world cannot remain a global arena for US troops and wars indefinitely whether Washington likes it or not.
Source: InfoBrics
Before It's News®
is a community of individuals who report on what's going on around them, from all around the world.
Anyone can
join
.
Anyone can contribute.
Anyone can become informed about their world.
"United We Stand" Click Here To Create Your Personal Citizen Journalist Account Today, Be Sure To Invite Your Friends.